Airflow tutorial 7: Airflow variables
In this tutorial, we explore how to use Airflow variables
The GitHub links for this tutorial
What are Airflow variables?
Variables are key-value stores in Airflow's metadata database.
It is used to store and retrieve arbitrary content or settings from the metadata database.
When to use Variables
Variables are mostly used to store static values like:

config variables
a configuration file
list of tables
list of IDs to dynamically generate tasks from

Separate the constants and variables from pipeline code:

It is useful to have some variables or configuration items accessible and modifiable through the UI.
Working with Variables
Variables can be listed, created, updated and deleted from the UI (Admin -> Variables).
In addition, json settings files can be bulk uploaded through the UI. Please look at an example here for a variable json setting file
Restrict the number of Airflow variables in your DAG
Since Airflow Variables are stored in Metadata Database, so any call to variables would mean a connection to Metadata DB.

Instead of storing a large number of variable in your DAG, which may end up saturating the number of allowed connections to your database.
It is recommended you store all your DAG configuration inside a single Airflow variable with JSON value.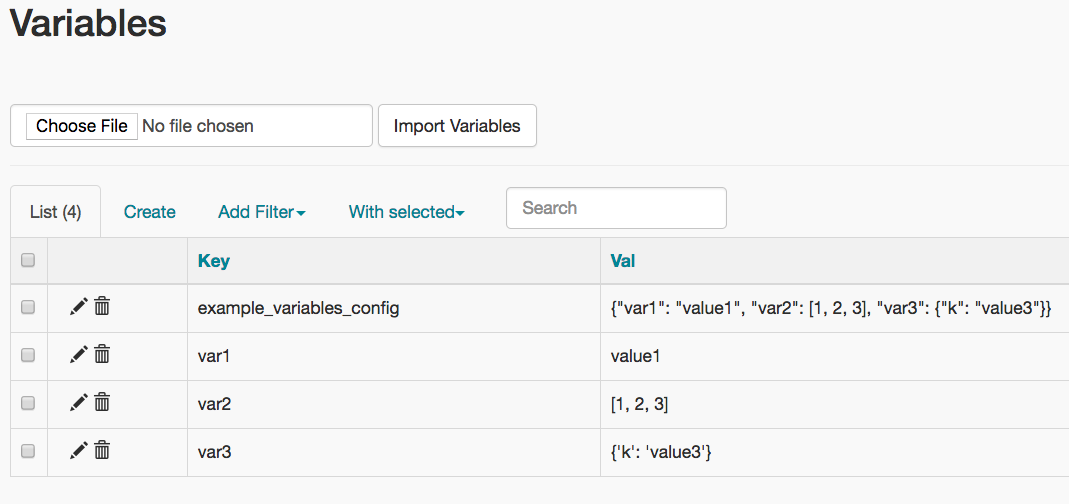 You can then access the variables as follow:
# Config variables
## Common


var1

 

=

 

"value1"




var2

 

=

 

[

1

,

 

2

,

 

3

]




var3

 

=

 

{

'k'

:

 

'value3'

}





## 3 DB connections called


var1

 

=

 

Variable

.

get

(

"var1"

)




var2

 

=

 

Variable

.

get

(

"var2"

)




var3

 

=

 

Variable

.

get

(

"var3"

)





## Recommended way


dag_config

 

=

 

Variable

.

get

(

"example_variables_config"

,

 

deserialize_json

=

True

)




var1

 

=

 

dag_config

[

"var1"

]




var2

 

=

 

dag_config

[

"var2"

]




var3

 

=

 

dag_config

[

"var3"

]





# You can directly use a variable from a jinja template
## {{ var.value.<variable_name> }}





t2

 

=

 

BashOperator

(


    

task_id

=

"get_variable_value"

,


    

bash_command

=

'echo {{ var.value.var3 }} '

,


    

dag

=

dag

,




)





## {{ var.json.<variable_name> }}


t3

 

=

 

BashOperator

(


    

task_id

=

"get_variable_json"

,


    

bash_command

=

'echo {{ var.json.example_variables_config.var3 }} '

,


    

dag

=

dag

,




)



Access variables through Airflow command line
You can run some CRUD operations on variables through the Airflow CLI
Some command you can run in this example:
# get value of var1


docker-compose run 

--rm

 webserver airflow variables 

--get

 var1



# set value of var4


docker-compose run 

--rm

 webserver airflow variables 

--set

 var4 value4]



# import variable json file


docker-compose run 

--rm

 webserver airflow variables 

--import

 /usr/local/airflow/dags/config/example_variables.json